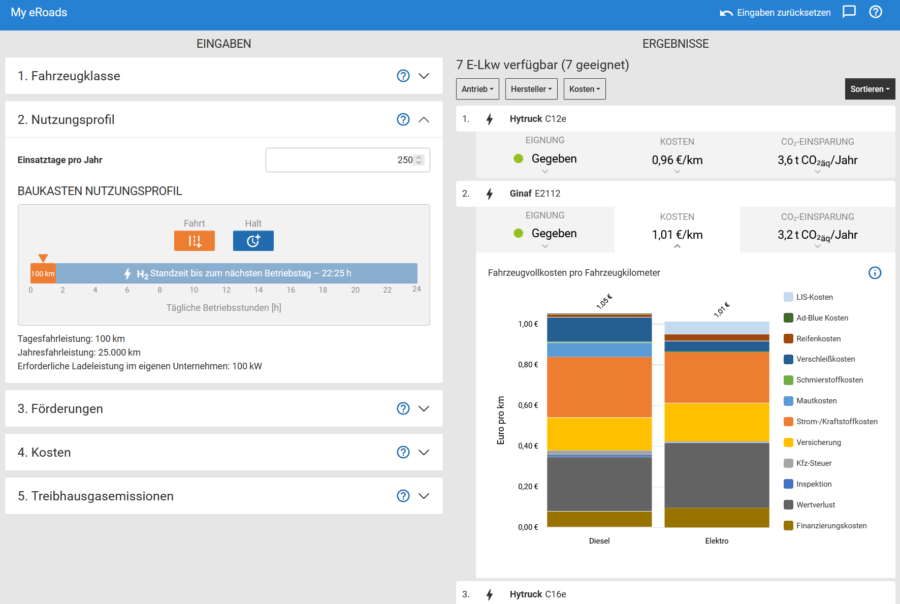 Haulage companies and retailers can now compare the costs of climate-friendly trucks and conventional models within minutes. With my-eRoads.de, the Heidelberg Institute for Energy and Environmental Research (ifeu), together with practical partners from logistics, has developed an independent online consulting tool for switching to climate-friendly commercial vehicles. Whether long-distance or inner-city delivery: the economic analysis is based on concrete application profiles and includes almost all electric truck models available today. my-eRoads.de thus goes online as one of the largest manufacturer-independent databases for e-trucks in the German-speaking world. The my-eRoads.de is tailored to logistics professionals who need an overview of electric commercial vehicles available on the market for their needs in just a few minutes. The tool offers quick, manufacturer-independent initial advice on costs and CO2 emissions.
At my-eRoads.de, databases are stored with details on almost all vehicle models and charging stations, as well as for the subsidy offers of the federal government and the 16 federal states. The databases are updated quarterly and offer the latest data on almost 50 battery and fuel cell commercial vehicles: provided with payload, range and design from panel vans to articulated lorries - and a transparent estimate of the purchase prices, which users can adjust if concrete offers from manufacturers are available.
In the comparison tool, every commercial vehicle operator can calculate whether a vehicle is suitable for the intended use and what the acquisition and running costs of switching to electric trucks will be. Daily kilometres, idle times and parameters such as purchase or leasing can be set individually. In addition to economic efficiency, the consulting tool also provides information on operational challenges, for example with regard to the charging infrastructure.
The logistics sector and companies with delivery operations have a great need for advice, especially now that the market for climate-friendly commercial vehicles is starting to ramp up. Both the number of electric commercial vehicles available as series production vehicles and the number of registrations are now increasing in Germany. All manufacturers have now announced series models in the various segments.
The development of the comparison portal my-eRoads.de was funded by the Federal Ministry of Economics and Climate Protection (BMWK). It is intended to support operators of commercial vehicles in switching to e-trucks. In cooperation with NOW GmbH, the advice tool is also integrated on the website www.klimafreundliche-nutzfahrzeuge.de. This platform also contains current information on the promotion of alternative drives and supports operators with practical knowledge when converting their commercial vehicle fleet.
Source: Link