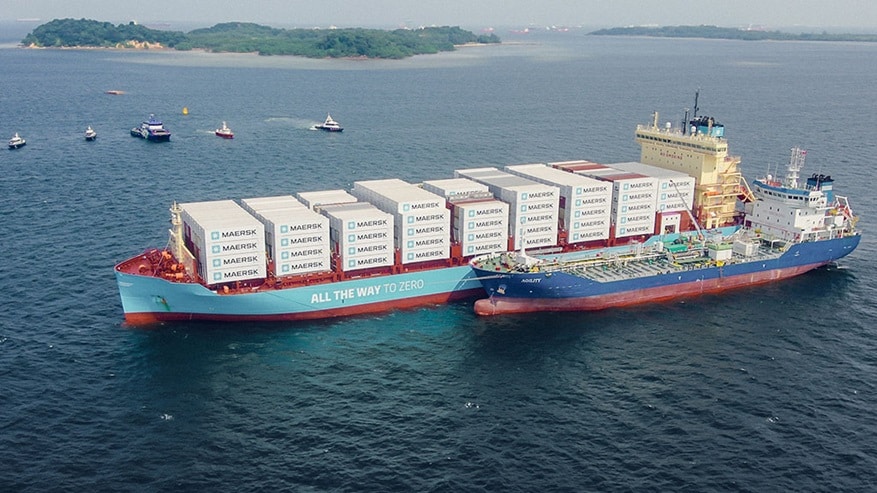 Copenhagen, Denmark - In a significant milestone for the maritime industry's shift towards cleaner fuels, A.P. Moller - Maersk (Maersk) and Equinor have inked an agreement to ensure a supply of green methanol for Maersk's groundbreaking methanol-enabled feeder vessel. This partnership marks a step toward reducing greenhouse gas emissions in the maritime sector and aligns with Maersk's ambitious sustainability goals.
The agreement between Maersk and Equinor guarantees the supply of green methanol for the ship from its maiden voyage, set to commence in September 2023. This groundbreaking vessel, which incorporates methanol as a cleaner fuel option, will operate on a route from Northern Europe into the Baltic Sea following its naming ceremony scheduled later this month in Copenhagen. The green methanol will be sourced from bunkers in Rotterdam.
Equinor, a prominent player in the European methanol market with its production plant at Tjeldbergodden, views this partnership as a vital step toward delivering eco-friendly fuels to the marine industry. The green methanol supplied to Maersk's vessel is produced from biogas derived from manure. This biogas is transformed into biomethane and injected into the existing gas grid, with methanol production following on a mass-balance basis. Importantly, this process adheres to the existing European biogas certificate system, ensuring traceability and preventing double-claims. It not only facilitates the production of green methanol but also helps in the reduction of harmful methane emissions that would otherwise result from untreated manure feedstock. The biomethanol produced is ISCC EU certified, aligning with the EU Renewable Energy Directive.
"We are very pleased to partner with Equinor as it enters this business area. It is critical to engage energy majors in supplying future fuels at scale. This collaboration is a crucial step toward accelerating the journey to a green fuel economy for global shipping," emphasized Rabab Boulos, Chief Infrastructure Officer at A.P. Moller - Maersk.
With over 100 methanol-enabled vessels on order across the industry, the demand for green fuel production is steadily rising, underscoring the maritime sector's commitment to sustainability.
Maersk, which defines "green fuels" as those with low to very low greenhouse gas emissions compared to fossil fuels, aims to reduce its net greenhouse gas emissions to zero by 2040. The company also aspires to transport a minimum of 25% of ocean cargo using green fuels by 2030. The 2,100 TEU (twenty-foot-equivalent) feeder vessel represents a significant step towards Maersk's long-term objective of transitioning its entire fleet to operate exclusively on green fuels. Notably, Maersk has 24 additional methanol vessels on order for delivery between 2024 and 2027, and the company has implemented a policy to only order new, owned vessels that come equipped with a green fuel option.
In the long term, the feeder vessel will transition to e-methanol sourced from a plant in Southern Denmark, operated by European Energy. This transition is expected to occur in the first half of 2024, further aligning with Maersk's commitment to sustainable shipping practices.
As the maritime industry continues to explore cleaner fuel options, partnerships like the one between Maersk and Equinor demonstrate a collective commitment to reducing the environmental impact of global shipping, making significant strides towards a greener future for the sector.
Source: Link