Battery Electric Vessels
World's largest electric ferry launches in Norway (2021)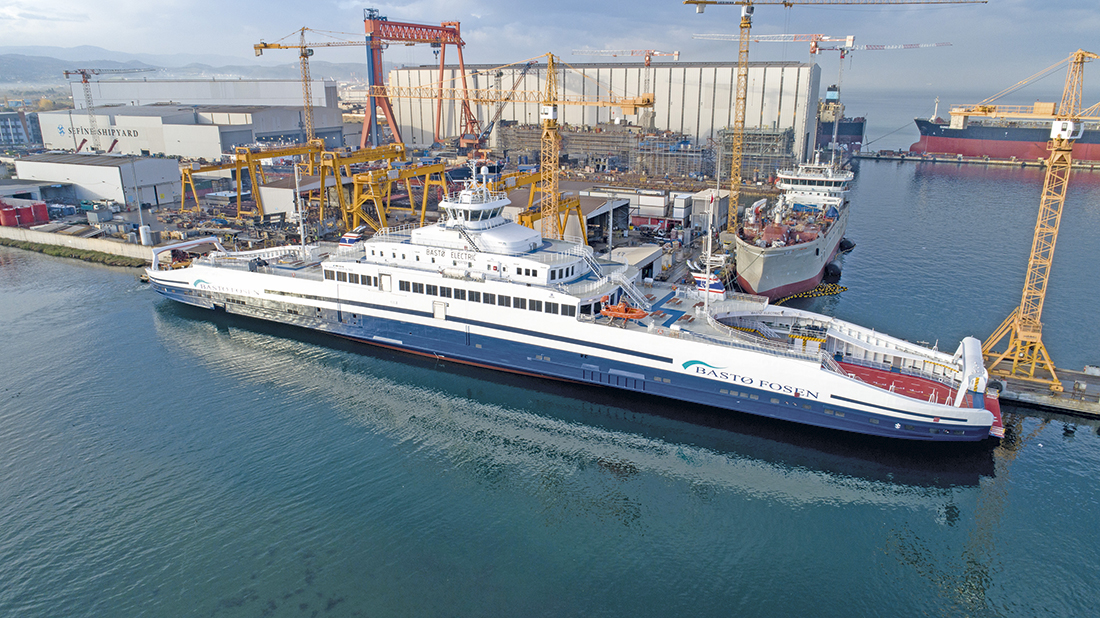 The world's largest all-electric ferry yet has gone into service in Norway on a route across the Oslo Fjord. Bastø Electric is the first of three battery-powered ferries operated by the shipping company Bastø Fosen to enter Norwegian waters with more in the making in Turkey.
The Bastø Electric is 139.2-metre-long and 21-metre-wide and was built by the Turkish Sefine Shipyard and has room for 600 passengers and 200 cars or 24 trucks. The battery and fast-charging systems for all three ferries are supplied by Siemens Energy from the battery factory in Trondheim. Bastø Electric uses batteries with a capacity of 4.3 MWh. The fast-charging system has a capacity of 9 MW, according to the shipping company. When docking, the ferry is always "charged at lightning speed".
The approximately ten-kilometre-long ferry route between Moss and Horten is Norway's busiest ferry connection, according to Bastø Fosen. Annually, 3.8 million passengers and 1.8 million vehicles are transported on this route. "During 2022, emissions on this ferry route will be reduced by 75 per cent," the shipping company says. Two other ferries are also to be converted from diesel to electric operation shortly. According to the company, each ferry docks and departs 20 to 24 times a day. The crossing takes around 30 minutes.
Ampere, the world's first electric car ferry (2015)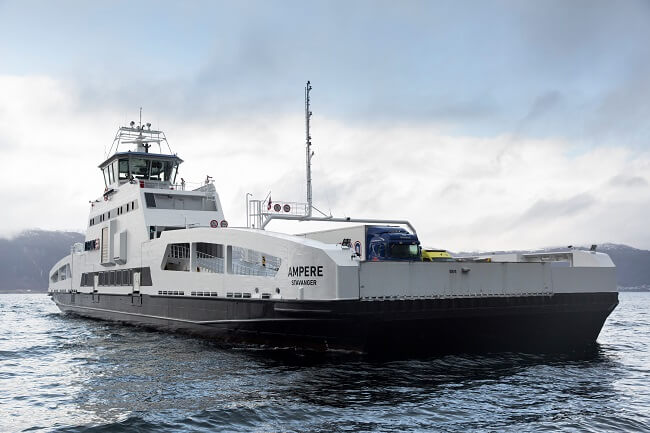 The world's first electric car and passenger ferry, Ampere, has been in service since May 2015. Ampere is powered by lithium-ion batteries and is owned and operated by the Norwegian company, Norled. Ampere covers the six kilometres across the Sognefjord between Lavik and Oppedal in 20 minutes, 34 times a day, 365 days a year. The stretch of water is part of the European highway E39, which is about 1.5 hours north of Bergen on the Norwegian midwest coast. The installation of the electric ferry, which is recharged by climate-friendly hydropower, is an important step in the transition to carbon-neutral transports.
A winning cooperation
Norway hosts a large number of ferries carrying passengers and vehicles across the country's many grand fjords and lakes. Big, heavy and noisy, they often appear as disturbing misfits in the pristine and grandiose landscapes. The Ministry of Transport and Communications therefore launched a competition in 2010 to develop the most environmentally friendly ferry. The Ministry also announced that the winner would get to operate the Lavik–Oppedal route because the concession license of the then diesel-operated ships would expire in 2015. The electrotechnology company Siemens, with 165 years in the industry and active in more than 200 countries today, teamed up with the Norwegian shipyard Fjellstrand to produce an emissions-free ferry. In an interview, the Siemens Norway engineer Odd Moen explained that battery-driven propulsion had been used for submarines for more than a century, so why should it not be possible to "bring such a drive system concept to the surface?" (Siemens 2016).
The technical details
Ampere is an 80 by 20 metres car ferry that can take 120 vehicles and 360 passengers. The catamaran is quite substantial in size with an 11-ton battery, but it is only half the weight of a conventional ferry because it is made exclusively of aluminium instead of the normally used steel. Aluminium also means that the ship needs less maintenance, as the corrosion-resistant hull is better protected against rust and does not need any special coat of paint. Two electric engines with a combined output of 900 kW power the ferry. The lithium-ion batteries that fuel the engines have a total capacity of 1,000 kWh, which is equivalent to about 1,600 standard car batteries and has enough power to make a few return trips across the fjord. Siemens installed a 260 kWh battery at each dock to recharge the batteries on the ferry without causing temporary blackouts in the local villages where the ferry can recharge for the ten minutes it takes to unload and board passengers. The dock batteries can then slowly recharge from the medium-voltage grid before the ferry returns. Since the region's electricity comes solely from hydropower, the ship runs on fossil-free energy that is cheaper than diesel. In comparison, a conventional ferry on this route would consume about 1 million litres of diesel and emit 2,680 tons of CO2 and 37 tons of NOX per year.
Ellen E-ferry (2019)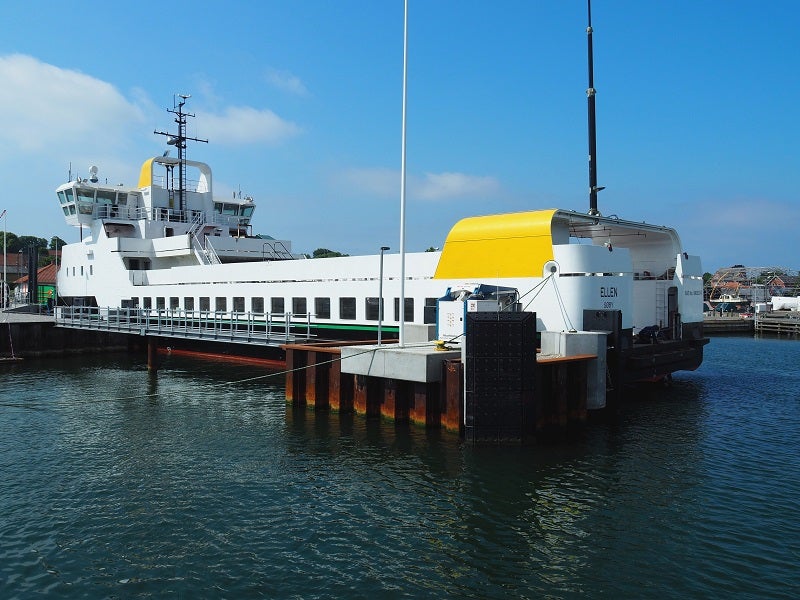 In 2015 the European Commission (EC) announced a project to build the world's first fully-electric ferry, able to travel more than 20 nautical miles, thanks to what would be the world's biggest battery – in a maritime setting at least. E-Ferry – a four-year, €21.3 million project – is funded by the EC and industry as part of the Horizon 2020 Research and Innovation programme. "Ellen, as the ferry has been christened, is a fully electric, medium sized car and passenger ferry, run only on power from batteries charged in harbour," explains project coordinator Trine Heinemann, "It will cross distances of up to 22 nautical miles (38km) between charging." Able to carry 31 cars or five trucks, and as many as 198 passengers at capacity, Ellen will sail between Søby on the island of Ærø, and Fynshav in Denmark, operated by the Municipality of Aeroe (Ærø Kommune).
World's First Electric Autonomous Cargo Ship Launched In Norway (2021)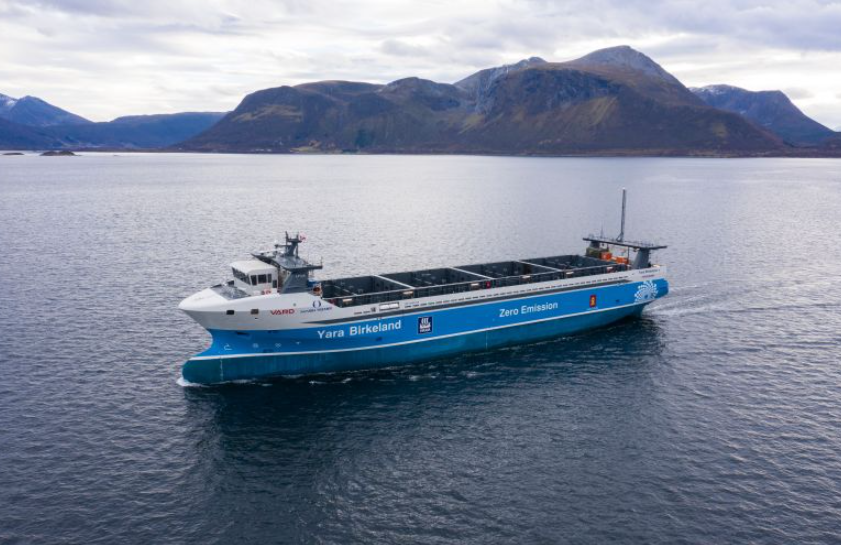 Yara and technology company KONGSBERG teamed up with the ambition to build the world's first autonomous and zero-emission container vessel.
With the aim of reducing diesel-powered truck haulage by 40,000 journeys a year, Yara Birkeland will reduce NOx (Nitrogen oxide) and CO2 emissions, improve road safety, reduce road dust formation and reduce traffic noise while transporting fertilizer from Yara's factory in Porsgrunn, Norway to the export port in Brevik, Norway.
On the technical side, KONGSBERG is responsible for the development and delivery of all essential technologies at Yara Birkeland. This applies to the sensors and integration required for remote and autonomous operations, as well as electrical propulsion, battery and control systems.
Yara Birkeland will be put into operation in 2022. Initially it will start a two-year trial to become autonomous and certified as an autonomous, fully electric container vessel. Before it is put into operation, Yara Birkeland will take its first and only trip to Oslo, Norway for partners to experience the ship first-hand and learn more about the process behind this great achievement.
The World's First All-Electric Cargo Ship (2017)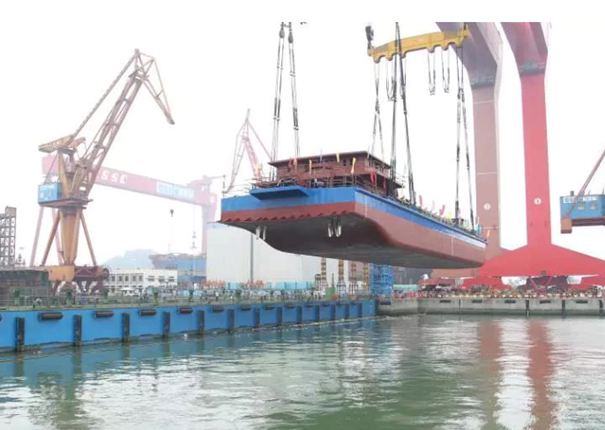 China has launched the first all-electric cargo ship. The 230 foot long vessel is equipped with a 2,400 kWh lithium-ion battery that stores enough electrical energy to transport 2200 tons of cargo a distance of 50 miles on a single charge at a top speed of about 8 miles per hour. Time to recharge the battery is given as 2 hours, which is approximately the time needed to unload the ship at its destination. 
"As the ship is fully electric powered, it poses no threats to the environment. The technology will soon be likely … used in passenger or engineering ships," said Huang Jialin, chairman and general manager of Hangzhou Modern Ship Design & Research Co, which designed the electric cargo vessel. The battery for the ship is comprised of 1,000 individual lithium-ion packs. Adding enough power to carry more cargo is simply a matter of adding more battery packs.
Hybrid electric vessels
First battery-powered cruise ship sails for the Arctic (2019)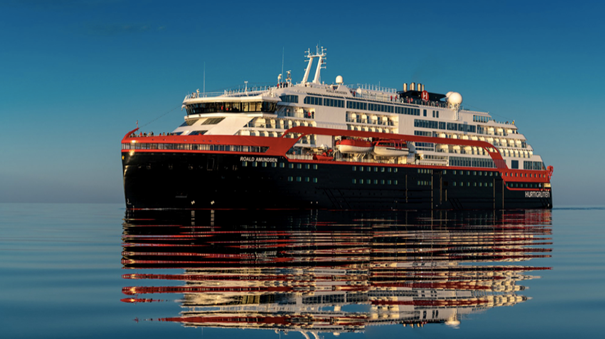 The hybrid expedition cruise ship, the Roald Amundsen, can take 500 passengers and is designed to sail in harsh climate waters. 
Named after the Norwegian explorer who navigated the Northwest Passage in 1903-1906 and was first to reach the South Pole in 1911, the ship heads for the Arctic from Tromsoe this week and will sail the Northwest Passage to Alaska before heading south, reaching Antarctica in October. 
While the engines run mainly on marine gasoil, the ship's battery pack enables it to run solely on batteries for around 45 to 60 minutes under ideal conditions, Hurtigruten Chief Executive Daniel Skjeldam told Reuters. 
The company estimates that the battery pack will reduce fuel consumption and save about 20% in carbon dioxide emissions, compared to if the ship was operating on marine gasoil alone.